Crocheting Lesson 4
Now that you know how to make a slipknot loop and hold the yarn correctly, and have been practicing your chain stitch, you can begin to make something. Crocheting always begins with a chain stitch. So you have to know how to do that.
This page just continues with your single crochet, to show you how to make simple things like a potholder. After you make your chain, you start from the last loop and single crochet into the second from the last loop.
I've made lots of potholders in my lifetime from just using the single crochet. The potholders turned out even better when I used two strands of yarn and crocheted them together.
What you'll Need:
Crocheting Needle (my favorite is a #7)
Yarn, medium thickness

---
Let's Make a Potholder
When making my potholders, I use 2 strands of yarn to give the potholder more thickness. Sometimes I use 2 different colored yarns.
I make a chain of 25, chain 1 then turn, and sc in each stitch the full row.
Row 2 thru 25: I go back and forth like this, till I have a square. Once I have a square, at one end, I chain about 10 stitches for a loop, then cut and tie it off, tucking in the excess yarn.
If you make a potholder using the 2 same colors of yarn, then you can single crochet all around the outside edges in a contrasting color.
---
Holiday Potholders to Crochet
"When celebrating the warmth of the season, don't get burned.
Play it safe woth Holiday Potholders." Make some Holiday Potholders like these.

See a large picture of the Holiday Potholders
Instructions for crocheting Holiday Potholders
---
Crochet a Santa Potholder
Crochet a Santa Potholder to add holiday cheer to the kitchen.
They make great gifts for your favorite cooks.

Large picture of the Santa Potholder
Instructions page 1 for the Santa Potholder
Instructions page 2 for the Santa Potholder

---
Checkerboard Potholders and Tablesetting
When you can't think of what to give your favorite friend, consider a Checkerboard Tablesetting.
Leave off the hanging loop to make mug coasters. Designed by Nellie Torgerson.

Large picture of the Holiday Checkerboard Potholder
Instructions for the Holiday Checkerboard Potholder

---
More Types of Crocheted Potholders
Several other types of fancy crocheted potholders.
A lady made these for me. Sorry, I don't have the instructions.

Green Double Sided Potholder - Front
Green Double Sided Potholder - Back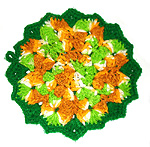 ---
How to Crochet
Learn to Crochet
Make a ChainStitch
Single Crochet
Double Crochet
Crochet Ornaments
Animal Ornaments
Crochet a Circle
Crochet a Triangle
Crochet a Cross
Crochet Mittens
Crochet a Hat
Crochet a Rug