Here's something you can make with those small plastic baskets that your fresh fruits come in at the grocery store. I haven't tried this one, I make crosses from plastic needlecraft stuff, and have been making them for years. This cute craft idea was in an old 1977 craft magazine called Mother's Home Life. Also see the crocheted shawl, which seem to be coming back in style.
Crochet a Cross Bookmark
Cut a cross from the bottom of a plastic berry basket or something similar.
Single crochet around the edges, beginning at the center top. Increase at the corners to make the stiches lie flat.
Slip stitch to beginning stitch and make a row of chain stitches about 4 inches long.
Double crochet in the third chain from the hook 3 times, holding back the last loop of each stitch.
After the last doublecrochet, slip stitch all loops on the hook and fasten off.
Weave end into stitches.
Works quickly and very pretty with 4 ply yarn.

---
Crochet a Cover for a Bible
This delicate Bible Cover is sure to become one of your family's most honored holiday heirlooms. Designed by Ruth Jacksier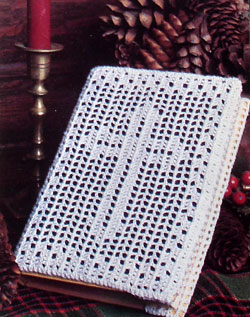 Crochet a Cover for a Bible larger picture
Crochet a Cover for a Bible instructions page 1... instructions page 2
---
How to Crochet a Cross Bookmark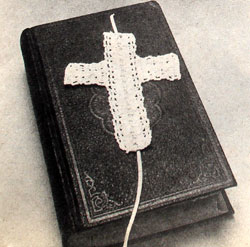 You'll want to make a cross Bookmark to celebrate this holy season. Susan M. Burdoff used cotton crochet thread, the wove a piece of shiny ribbon down the center.
Why not tuck a lace cross into your holiday card to show your special friends how much you care."
This crocheted cross was featured in a 1985 Woman's Day magazine.

Large picture of a crocheted cross
Sorry, the instructions for the crocheted cross are missing from the magazine! :(
---
Learn to Crochet
Make a ChainStitch
Single Crochet
Double Crochet
Crochet Ornaments
Animal Ornaments
Potholder Ideas
Crochet a Circle
Crochet a Triangle
Crochet Mittens
Crochet a Hat
Crochet a Rug