I decided to make this page because I can't believe no one else has had this problem with their GE Dryer. Okay I know I have a semi-new one, but it still runs, so why should I buy a new one?
---
My General Electric dryer is called a Prodigy and the Model number is DPXR483 EAOWW. The Serial number is LZ711070A. The GE dryer was given to us as a gift.
The dryer has been making a terrible noise for several months and clothes were getting caught in the top rim, and leaving black streaks. We followed some tips on taking the dryer apart, that we found on the Internet.
This white plastic piece is what appears to be wrong with it. You can see the top right edge of the dryer is chipped from the drum rotating unevenly.
The drum apparently rotates on a top and bottom piece of plastic. (whose idea was this?) This is the top white plastic piece that the drum slides on, the bottom piece has the lint filter.
All I need to replace is this top piece, but I can't seem to find this GE "dryer part" on the Internet and I don't even know if it's a "drum slide."
I can't find any pictures of it, and can't believe no else has had a problem with this white plastic piece getting worn.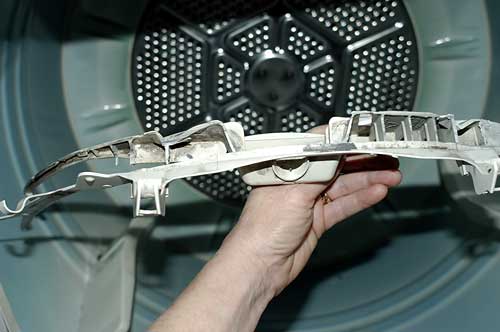 The bottom white plastic piece with the lint filter appears to be fine. Alll I've been able to find is something called a "drum slide" but there is no picture, so I'm not sure if this is it.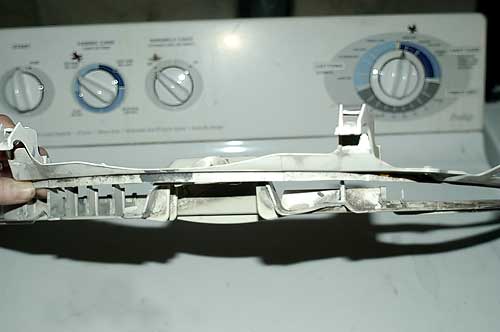 You can see in this picture how it is totally missing the white plastic ridges on the right, in very bad shape! I went to Sears to look at their GE dryers and they look just like this Prodigy dryer. So why can't I find this part? It appears to be a "standard" part. Has no one else had this problem with their GE dryer? Maybe there is something else wrong that caused this to start getting worn then.
---
Our Solution
We ordered the drum slides from a appliance parts company in Oklahoma. Put it back together even with this above broken piece, and the dryer works like brand new. What caused the pieces to become worn? We believe it was because the dryer was not level on the front, but shorter. So it was leaning more toward the front which cause more pressure on the drum. So, see if you can level it, and maybe you won't even have to replace the part. Anyway, thank God it is fixed, and it didn't cost a fortune.
I bought the drum slides and plastic pieces from this company here: American Appliance
But I had to fill out a form and send it to them. I think it still cost me about 40 bucks for the drum slides and plastic pieces.

Here's a link to my posts on the Appliance Repair Forum where I got help with the parts.