Crocheting circles takes a little bit of practice to get use to. Why would you want to crochet a circle? Maybe to make a pot holder or for use in an Afghan. I found these instructions in my junk box in the closet, and I would like to share them with you.
Here are some very simple directions, which is always the way I write. First of all, it would help if you are familiar with "single stitch crocheting"
See some animal ornaments you can make from the circle
---
How to Crochet Circles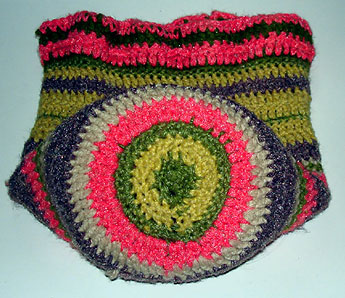 Materials you'll Need:
Crocheting Needle (my favorite is a #7)
Yarn, medium thickness

Let's Get Started
Join both ends as of a short chain to start a circle. Start with a slip knot and chain six or seven stitches. Put the hook back into the first stitch of the chain and make it a slip knot.
Works two single crochet stitches (increase) in every chain stitch until you come back to the starting chain. Attach a yarn marker right there to remind you to began a new round.
On this round increase in every other stitch.
Increase every other stitch on every other round and you'll end up with a big circle.
Here's what I made when I was learning how to crochet circles. A bag to put my crocheting yarn in, so I could easily take it with me when we traveled. I just used scrap yarn.
---
How to Crochet Ovals
Chain six stitches.
Make a single crochet in each chain stitch.
Instead of turning your work as you do to make a square, work 3 single crochet stitches in the last stitch.
Continue to single crochet down the other side until you reached the last stitch, put a marker here.
Make three single crochet in this last stitch and continue around, and at each end be sure to make three single crochets in the last stitch to turn the corner. Add a stitch if needed to keep the oval flat. The bottom of these baby booties are ovals.
---
How to Crochet
Learn to Crochet
Make a ChainStitch
Single Crochet
Double Crochet
Crochet Ornaments
Animal Ornaments
Potholder Ideas
Crochet a Triangle
Crochet a Cross
Crochet Mittens
Crochet a Hat
Crochet a Rug