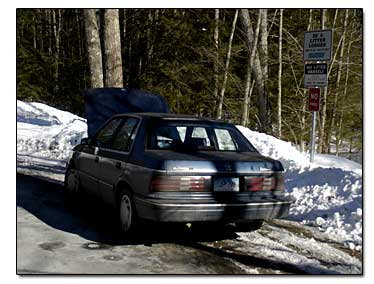 Okay, I really didn't mean to have to insert this picture of our 1989 Plymouth Sundance, with it's hood up, but what can I say.
Stuck in the Wilds of CT
We made a trip to New York and had to stop halfway there because the Sundance was overheating. We found out it had a huge leak in one of the hoses, but it only leaks when the car in running.
So, Vlad put more antifreeze in it and away we went. We stopped again at a truck stop just to buy some more antifreeze.
We've had problems with the Sundance ever since we bought it unfortunately. We paid $800 for it, but the story was, it sat in someones garage for 2 years. We still figured it was a good deal since it only had 82,000 miles on it.
---
Radiator was Leaking
The first thing we realized when we bought it, was that the radiator was empty. We thought that was really strange, so we put a new water pump on, which turned out to be a major task.
The next thing that happened was that the heater stopped putting out heat. Then the car started overheating, so the hubby took the thermostat out. Then it ran fine for a long time.
Recently though, things have taken a turn for the worse. The radiator developed a leak, so we bought another one for $109.00 at Daddio's Auto Parts. Then the hubby drove it to work one day and on the way back it had no power and was huffing along.
So now it is sitting in the driveway, waiting for us to decide what to do about it, (since Vlad is tired of working on it) It's a nice little car and I hate to see it just sit there.
---
Updates
Update: Okay, July 13, we replaced the ignition coil... not much changed.
Update: Oct. 4 - We decided the Sundance has a cracked block. We are getting radiator fluid mixing with the oil. Vlad stopped at an Auto Zone to get some Seafoam which is suppose to be the best for cleaning the engine and the carborator.
While he was in there, he found a product that believe it or not, fixes "cracked blocks." He bought it and we followed the instructions, and the block appears to be fixed. Funny, on the label it says, " This is your last chance before you junk the car."
The Bottom Line:
It was still worth getting the Sundance.
Also Read About: