Here lately Rag Quilts have been becoming a very popular item, especially to make and give for Christmas.
They are very easy to make... just takes time to do it. If you can sew a straight line... anyone can make one.
I spent most of my life doing crafts, especially crocheting, and I have made my share of crocheted blankets, baby blankets, lap warmers etc. and really never attempted to make a quilt.
But a friend of mine is making a rag quilt for a Christmas gift.
---
Make a Rag Quilt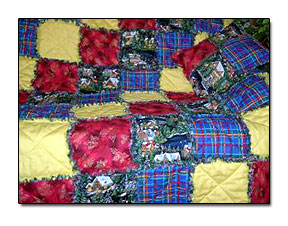 So here's what you need to get started. If you have a sewing machine that embroiders and sews such as Baby Lock. Have all the squares cut out...and I embroider 12 of the squares with wild flowers or another design.
You need three colors of flannel, in different colors or complementing designs.
Cut 180 - 9 inch squares out of this flannel...and then sew them all together.
Sew the seams showing on the right side.. instead of the wrong side...then you cut up to the seam line...wash and dry the quilt...and where you cut...is all frayed.
You can make rag quilts out of anything...old jeans...just regular fabric...as long as it frays after washing and drying it
Make one for all your grandkids too.
---
Crochet a Christmas Afghan
Here's some instructions on how to crochet an Afghan!
This Afghan is called the 12 Days of Christmas. The instructions are quite lengthy.

How to crochet a Basic Afghan stitch page 1

How to crochet a Basic Afghan stitch page 2

Large picture of the Christmas Afghan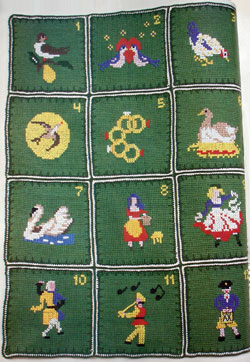 ---
Crochet a Football Blanket
This football blanket uses an Afghan stitch too, and special long Afghan crocheting hooks.

How to crochet a Basic Afghan stitch page 1

How to crochet a Basic Afghan stitch page 2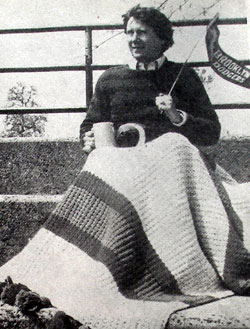 Large picture of the crocheted football blanket

Football blanket instructions page 1

Football blanket instructions page 2
---
Also see the collection of crocheted and braided rugs