Honestly, the only homemade Christmas costume I have ever made myself, was an Elf costume.
Easy Elf Costume
All I did was get some green tights, used a skirt from a Christmas tree and widened the waistline, then pinned it around me.
Wore a green turtleneck sweater, and an alternate color vest. Added some Christmas pins on the vest.
I didn't really have an elf hat, I just had my long ponytail with a huge green ribbon tied in it, and piled on the makeup and blusher.
---
Other Christmas Costume Ideas
This picture is a lady in a parade dressed up as Mrs Claus, and she was carrying and passing out red and green balloons to the kids. She has a very simple costume made.
A good standby, is always an angel costume. Years ago when my mom had to go to PTA meetings for Christmas, me and my sisters were always dressed up as angels every year.
Of course my mom did alot of home sewing too. Mostly using satins and lace, and the wings were made of sheer nylon covered wire hangers.
How we attached them I do not know, but I think they were just pinned on. We also had some kind of halo, which was a hanger wrapped in gold Christmas tinsel.
Felt is always a great material for Christmas crafts and costumes.
---
Cabbage Patch Kid's Christmas Costume
I couldn't believe this little crocheted Cabbage Patch Kid Christmas Costume when I found it in a 1985 crocheting magazine. So cute!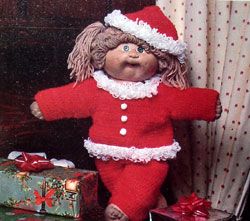 Large picture of the Cabbage Patch Kid in a Santa Suit
Crocheting Instructions page 1.... Crocheting Instructions page 2

More Christmas Pages
Christmas Costume Ideas
Easy Christmas Crafts
Christmas Ornaments
Make Felt Ornaments
Make a Christmas Wreath
Holly Pinecone Wreath
Make a Christmas Bow
Christmas Tradition