How to Get a Letter from Santa
So where do the letters from Santa Claus come from?
---
Check this picture below of Santa on the chimney of the post office!
---
The Santa Claus Picture Postmark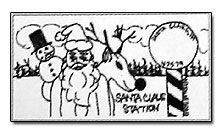 Beginning Dec 1, the Santa Claus Post Office will again offer it's picture postmark, designed by a winning student, for all holiday mail cancellations.
Here's some tips if you are seeking this special, collectable, postmark.
1. Allow at least a 2 inch by 4 inch space in the stamp area for the postmark.
2. Have the correct postage applied to items for mailing prior to bringing them to the post office.
3. To mail Christmas cards to the post office, package items-with postage in place- in a sturdy envelope or box and mail to:
Postmaster, Santa Claus, In 47579-9998. Be sure to request the special postmark. There is no charge for the picture postmark, but there is a 50 postmark limit, per person, per day. The postmark is available through Dec. 24.
---
See more pictures of
Santa Claus Village
Places to Stay
Holiday World